Orlando Jewellers started business in 1972. Located in Guildford, Orlando has catered to clients with the aim of providing unique and stylish jewellery to accommodate tastes, designs and styles.
Alan and Sylvia are qualified gemmologists with a wide experience of buying and selecting interesting and beautiful gemstones from all over the world for creating individual fine pieces of jewellery in gold and platinum.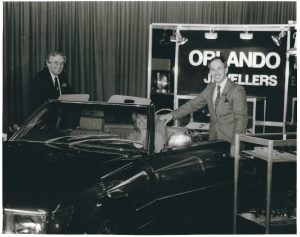 An on site workshop created some beautiful pieces, family collections and have now become family heirlooms. It started from a geological expedition to Spitsbergen in the Arctic which triggered off an interest in geology and gems. Some of the stones found have since been recognized as indicators for diamond locations. In the Canadian Arctic this has developed into a major world source.
Following up this new interest lead to the opening of the shop with a workshop above.
Our team of highly skilled and talented award winning jewellers, some of whose pieces have been shown in magazines such as Vogue, used by manufactures such as Mercedes, Freddie Lakers Skytrain and NADFAS, worked in the workshop for 30 years. Craftsmen tend now to work from their own premises but we still use many of the same trusted team.
Creativity, design and perseverance have created such unique pieces that one off creations have driven Orlando Jewellers to go above and beyond for their clients. No challenge is big and no design to extravagant. Alan and Sylvia aim to provide the best value for service, advice and knowledge to help your dreams and ideas come true.
Please contact us if you would like to discuss a unique design and hopefully we can work together to see this become reality.
We can restore and repair much loved pieces to their former glory or redesign using some of the same materials, perhaps to a more contemporary and wearable form.
Buying and selling of Antique pieces is also a important part of our service.
If you would like to contact us please use our contact page or call us to discuss booking an appointment. We greatly look forward to hearing from you.